The much awaited ISSF Delhi Shooting World Cup starts on Friday – 19th March. It going to be the 1st International Sports event to be hosted in India since the COVID-19 pandemic started.
This World Cup is also crucial given that Olympic ranking points are to be given out. Indian Shooting contingent who have already qualified for Tokyo Olympics will be looking to gain much needed competition experience at this World Cup. For shooters looking to get a quota through ranking, it will be an opportunity to book their place at Tokyo Olympics.
Read this article to understand which Indian shooter can qualify for Tokyo Olympics through ranking route.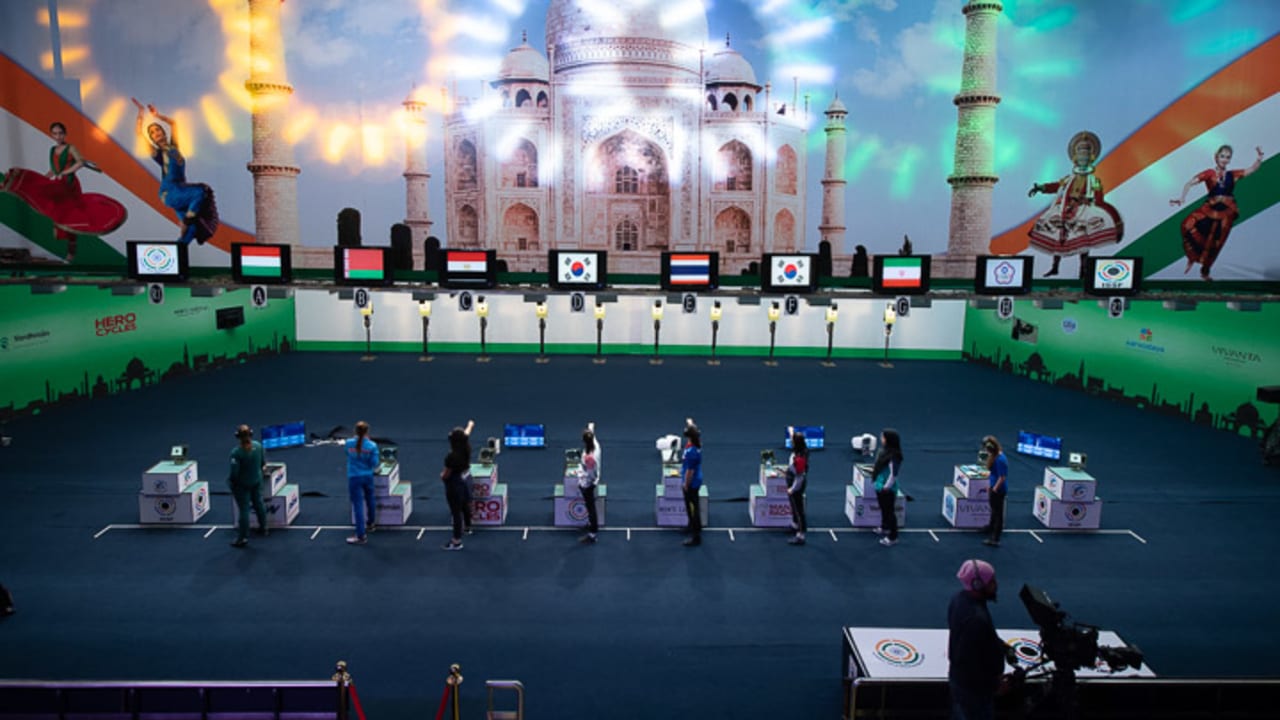 Where can we watch the World Cup?
All the finals will be broadcast live on ISSF Youtube Channel.
Here is the schedule of Finals…
Events marked in Italics are Olympics events at Tokyo.
20th March

1 PM – 10 m Air Rifle Men
2:30 PM – 10 m Air Rifle Women
5:30 PM – 10 m Air Pistol Women
7 PM – 10 m Air Pistol Men
21st March
10:15 AM – Air Rifle Team Men
11:15 AM – Air Rifle Team Women
12:30 PM – Air Pistol Team Women
1:30 PM – Air Pistol Team Men
3:45 PM – Skeet Women
5 PM – Skeet Men
22nd March
10 AM – 10 m Air Rifle Mixed Team
1:15 PM – 10 m Air Pistol Mixed Team
3:45 PM – Skeet Team Women
5 PM – Skeet Team Men
23rd March
3 PM – Skeet Mixed Team
24th March
9:30 AM – 50 m Rifle 3 Position Men
12:00 PM – 25 m Pistol Women
3:30 PM – 50 m Rifle 3 Position Women
25th March
11 AM – 50 m Rifle 3 Position Team Men
12:45 PM – 50 m Rifle 3 Position Team Women
4:30 PM – 25 m Pistol Team Women
26th March
9:30 AM – 50 m Rifle 3 Position Mixed Team
12:45 PM – 25 m Rapid Fire Pistol Men
3:45 PM – Trap Women
5 PM – Trap Men
27th March
2 PM – 25 m Rapid Fire Pistol Mixed Team
4 PM – Trap Mixed Team
28th March
1 PM – 25 m Rapid Fire Pistol Team Men
4 PM – Trap Team Women
5:15 PM – Trap Team Men