Test Cricket has produced some amazing moments recently. All the recent results have ensured that we are in for a tight finish in the 1st ever World Test Championship Final. Let us look at the qualification scenario going ahead…
The Back Story
The 1st edition of Test Championship started in August 2019. 9 of the 12 Test playing nations were involved. Each team was supposed to play 6 Test Series (3 Home and 3 Away). Each series was worth 120 points and each team was to play for 720 points. 120 points in each series is distributed equally among number of tests played in that series. 2 teams with highest points at the end of league stage would qualify for final to be played in June 2021 at Lord's. It was a plain and simple system….
And then COVID-19 pandemic happened. Sports calendars were disrupted. Test Series got rescheduled. Due to paucity of time, it seemed that the initial plan of each team playing 6 series could not be completed by June 2021.
And then ICC thought of coming up with an alternate scoring system!
The New Scoring System!
Initially the 2 team with highest points were supposed to qualify for the ICC Test Championship Final. To accommodate teams who would not be able to play 6 series, ICC came up with a new scoring system.
In this new system, teams were ranked on PCT.

PCT is nothing but points earned/points played for. For example, a team plays 2 series of 2 Tests each. Points played for becomes 240. Let us assume that this team wins 1 Test in each series and loses other one.
Hence, PCT for that team becomes 120/240 = 0.5
The Qualification Scenario:
The new scoring system has negatively affected Team India. Prior to introduction of new system, Team India was leading the table with 360 points. However, when new scoring system came into place, Australia took over the number 1 spot.
Here is the current ICC Test Championship Table:
Given how the table stands right now and number of sereis yet to be played, it is highly likely that 2 teams out of following 4 will qualify for the final:
Australia, India, New Zealand and England.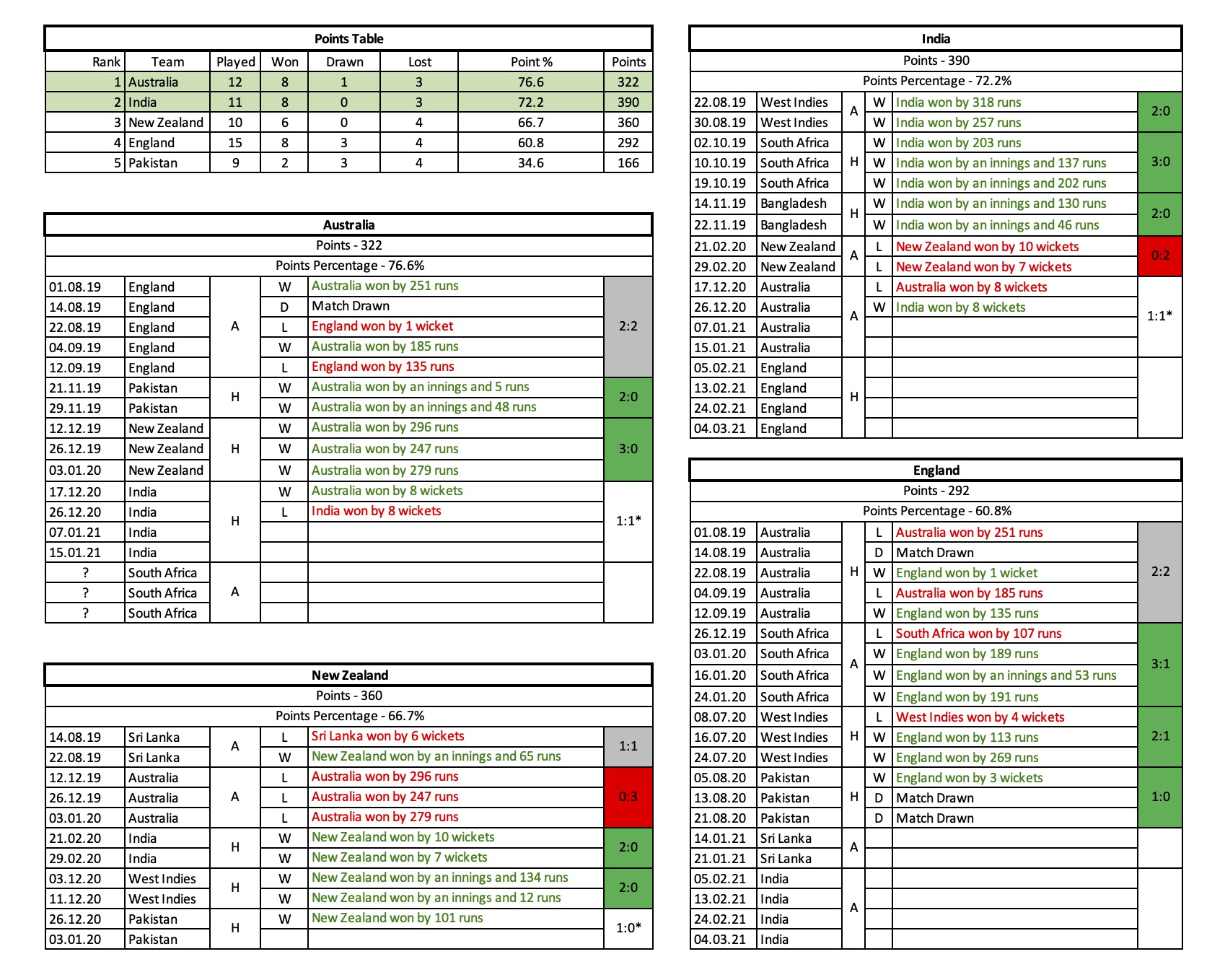 New Zealand: New Zealand is in a very strong position to qualify for Final. They only have 1 more Test left. If they win it, they will end up with 0.7 PCT (420/600). If they lose, New Zealand will end at 0.6 PCT (360/600). If it is a draw, they end at 0.633 (380/600).
The interesting permutation and combination lies with India, Australia and England.
India: India is currently playing Australia and then plays England at home for a 4 match Test Series. India still has 180 points more to play for. Each Test Match for India is worth maximum 30 points. For it to have a PCT of 0.7 or above (maximum NZ can get), it needs 504 points or more. It currently has 390 points which means it can stay above NZ with 4 more Test wins or 3 wins and 2 draws. Anything else would mean we finish below New Zealand if they win their second Test against Pakistan.
That means we would be dependent on Australia and England's point total.
Australia: Australia are currently leading the table. They have 2 Tests remaining against India and 3 matches series against South Africa i.e. 60+120 = 180 points more to play for. If they lose final 2 Test matches against India and win all 3 Test matches against South Africa, they would still finish at 0.736 PCT. This would mean they are guaranteed a spot in the final.
England: England is currently 4th in table. It has 2 away series lined up. 2 match series against Sri Lanka and 4 match series against England i.e. 240 points more to play for. Their qualification depends on how India and Australia perform in their remaining matches.
Whatever happens, we are in for some scintillating Test Cricket action over the next 3-4 months….